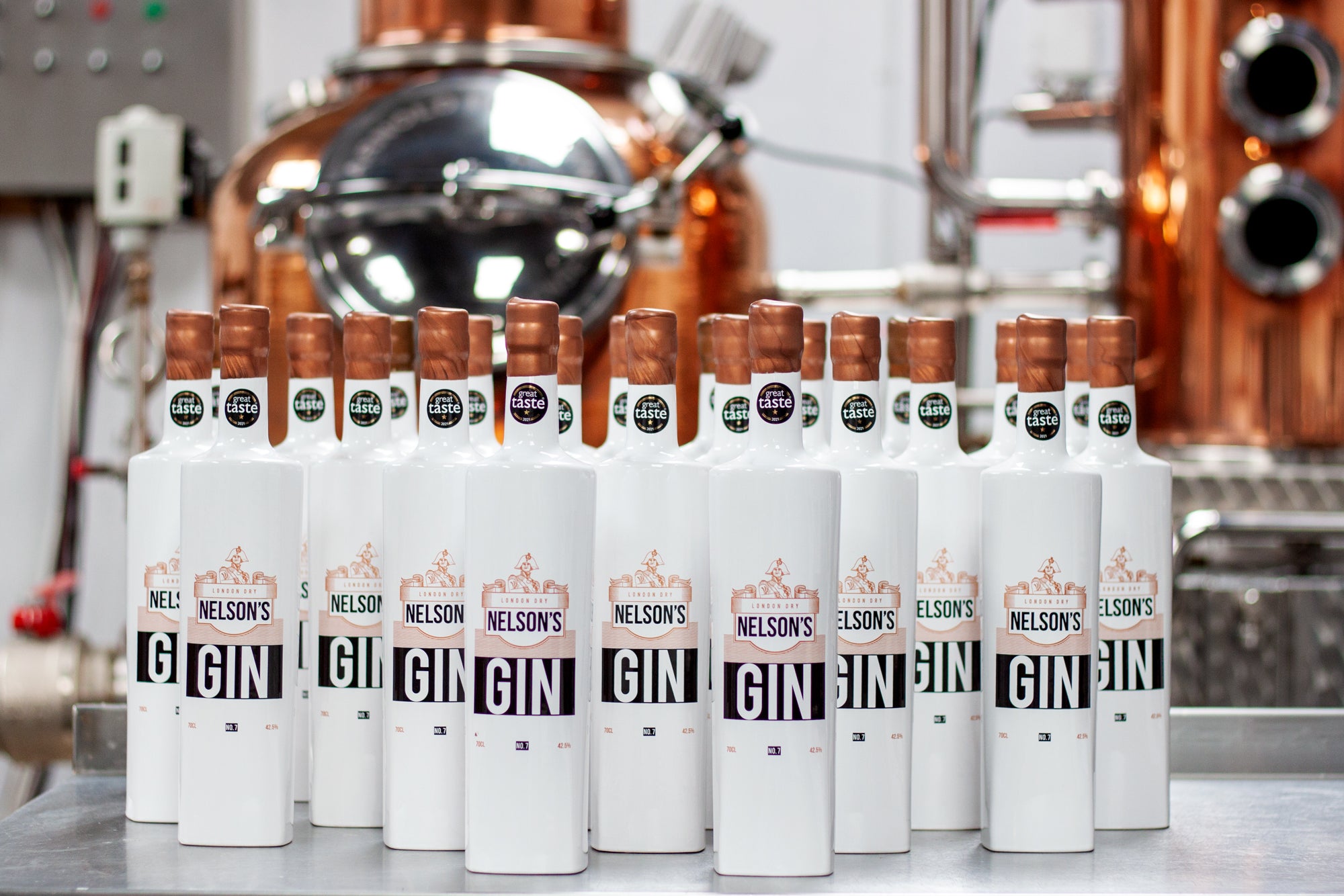 Nelson's Distillery
Refill, Recycle & Reward!
You can never have too much of a good thing, and what's better than a continuous supply of Gin and saving the planet whilst you're at it!?
At Nelson's we are committed to helping protect the planet and understand the need to be more sustainable in our day-to-day practices.
While our iconic ceramic bottles are sentimental to our Staffordshire heritage, not to mention beautiful to look at, we understand the difficulties around recycling them at home (there are only so many vases and candle holders you can upcycle). So, if you find yourself with an abundance of Nelson's bottles,
you're probably wondering what can I do with them…
Refill & Reuse
Refill Pouches
Looking for an eco-friendly and cost-effective way to enjoy more gin for your money? Look no further than Nelson's 1L Refill Pouches, available both in-store and online. By choosing to refill your iconic Nelson's gin bottle with one of these pouches, you're not only saving money but also reducing your environmental footprint. The pouches are made from PET plastic, which is widely recycled in the UK, making them a great choice for the environmentally conscious gin lover. The spout and screw top make it easy to pour and store the pouch, making it ideal for space-saving storage in the fridge or cupboards.
Refill in store
If you're local to the area, why not visit the Nelson's shop at our distillery in Uttoxeter, Staffordshire, and refill your empty bottles in person? As a bonus, you'll save 10% on your purchase!
The refill scheme is currently only available for Nelson's core gin range, but we're actively working on expanding it to include our rum collection as well. By choosing to refill and reuse your bottles, you're taking a positive step towards a more sustainable future, one bottle at a time.

Recycle & Reward
Nelson's distillery has implemented a bottle recycling program that permits customers to send back their empty Nelson's bottles to be appropriately disposed of or recycled. If a customer returns 6 Nelson's ceramic bottles, each measuring 70cl and featuring a Wade Ceramics logo on the base, they will be given a complimentary 20cl Gin of their choice, excluding Nelson's Navy Strength Gin.
In case a customer is unable to visit the distillery, they may return their bottles via mail (paid for by the customer), including a note detailing their preferred gin and return address. 3x20cl ceramic bottles will be considered equivalent to 1x70cl. The postage for the free item will be covered by Nelson's.
Only ceramic bottles will be considered for the reward scheme, however, all Nelson's bottles can be returned at recycled at the distillery.
Nelson's Distillery & School Ltd
Unit 5A Grindley Business Village
Grindley, Uttoxeter,
Staffordshire ST18 0LR